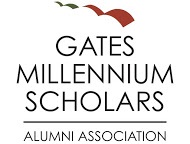 Dear GMS Alumus/ae,

Thank you for your ongoing support of the GMS Alumni Association.

I am writing to invite you to be a part of an extraordinary vision. That vision is to position the Gates Millennium Scholars Alumni Association to form an independent non-profit foundation, with local chapters and national task forces designed to engage fellow alumni in various social, community, and educational opportunities. We can begin creating change in the GMS community today.
This year, the final class joined the Gates Millennium Scholars family, putting the program on schedule to sunset in 2028-29. We want to continue the great work that began with Bill and Melinda Gates' simple, yet bold idea: create a pipeline of high-achieving minorities who can excel in education and life. We want to support local chapters that will continue to engage alumni in giving back to their communities.

Your support will help Gates Millennium Scholars continue the great, ambitious work that began with Bill and Melinda in 2000. No one knows better than you the experience of being a Gates Scholars. You know first-hand how the program's support has provided opportunities for you to make change in our communities and throughout the world.

Your gift is a tremendous vote of confidence in the GMS legacy. Join us today in the next phase of this exciting journey. Make a tax-deductible gift online at by clicking here or send your check payable to UNCF-GMS Alumni Program at 1805 7th Street NW, Washington, DC 20001 (Attention: GMS Alumni Programs).

Your support is critical to our success. Make the GMS Alumni Association your charity of choice and give today.


Sincerely,





Kelvin Harris
Director of Leadership Development Programs

Help GMSAA create a sustainable future. Make your gift now.